Introduction :-
The general examination of the patient must be done systematically, noting the following -
Built

Body proportions

Nutrition

Skin, hair and nails

Lymphadenopathy

Edema
Built is the skeletal structure in relation to age and sex of the individual as compared to a normal person.
Tall Stature :-
A child is considered to be tall when the height is greater than 2 standard deviations above the mean for the age. Gigantism is the term applied when the patient's height is greatly in excess of the normal for his age before fusion of epiphysis. There is no fixed height to continue a giant, but in adults, it is applied for individuals with a height of more than

6

1/2

Ft.
Short Stature :-
Dwarfism is the term applied when the patient's height is 2 standard deviations less than that for his/her age and sex. mid-parental height usually determines the final height.
2.

Body Proportions :-
Normally, in adults, the height of the person is equal to the length of arm span. The upper segment ( from vertex to the pubic symphisis ) is equal to the lower segment ( from pubic symphisis to the heel ).
In infants, the upper segment is greater than the lower segment and the height is greater than the arm span. This infantile type of body proportion persists in achondroplasia, cretinism and juvenile myxedema.
The reverse of infantile body proportion i.e. arm span greater than height and lower segment greater than upper segment occurs in eunuchoidism, marfan's syndrome, homocystinuria, klinefelter's syndrome and frohlich's syndrome.
3.

Nutrition :-
A normal person is well nourished as regards proteins, fats, carbohydrates, vitamins and minerals. certain clinical signs help to diagnose deficiency of one or more of these nutrients.
Proteins :-

Hypoproteinemia causes rough skin and later edema of feet and brittle hair.

Fats :-

Fat malnutrition leads to cachexia with hollowing of cheeks, loss of the shape of hips ( due to loss of fats ), flat abdomen and absent fat over the subcutaneous tissues of the elbows.

Carbohydrates :-

Carbohydrate malnutrition is difficult to detect clinically because there is gluconeogenesis from fats or proteins.
4.

Decubitus :-
Decubitus or the posture a patient adopts when lying in bed often gives a valuable diagnostic clue.
Hemiplegia :-

The patient lies in bed with one side immobile, the affected arm flexed and the affected leg externally rotated and extended.

Meningitis and tetanus :-

The patient has neck stiffness and opisthotonos.

Colic :-

In renal, biliary or intestinal colic, the patient is markedly restless and tossing and turning in bed in agony.

Acute inflammatory abdominal disease :-

The patient lies on his back quietly with legs drawn up.

Cardiorespiratory embarrasment :-

The patient is more comfortable in sitting-up position. This position is also assumed in abdominal distention and ascites when intra-abdominal pressure is raised.

Pneumonia and pleurisy :-

The patient is most comfortable lying on the affected side because the movement on the affected side is restricted.
5.

Skin,Hair & Nails :-
Color :-

It may be pale, flushed, cyanosed, yellow etc.
Pigmentation :-

Pigmentation may occur in several diseases. some common medical conditions associated with pigmentation are :
Endocrine : Addison's disease, cushing's disease, thyrotoxicosis.
Deficiency : pellagra, kwashiorkor, megaloblastic anemia.
Infections : kala azar, chronic malaria, secondary syphilis, tuberculosis, leprosy, HIV etc.
Metabolic : Hemochromatosis.
Skin disease : neurofibromatosis, lichen planus, acanthosis nigricans etc.
Miscellaneous :

Malignancy, pernicious anemia, exposure to sunrays or radiations.
Hypopigmentation :-

Hypopigmented patches may occur in leprosy, leukoderma, albinism, fungal infections of skin, etc.
Eruptions :

various types of eruptions may occur as follows:
Examination of Hair :
Examination of Nails :
6.

Clubbing :-
7.

Cyanosis :-
8.

Jaundice :-
9.

Pallor :-
pallor is paleness of skin and mucous membrane either as a result of diminished circulating red blood cells or diminished blood supply.
10.

Lymphadenopathy :-
Lymphadenopathy is inflammatory or non-inflammatory enlargement of lymphnodes.
11
.

Edema :-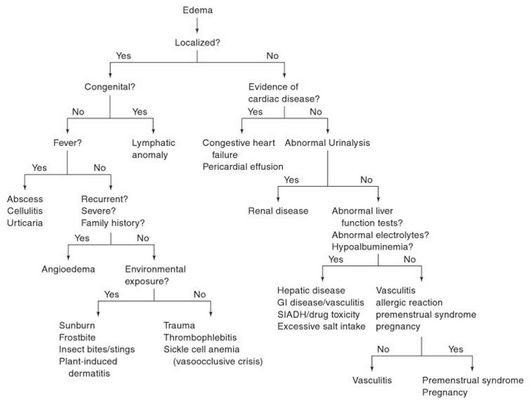 12.

Vertebral column :-
13.

Thickened nerves :-
Charcot marie tooth syndrome
Dejerine sotta's syndrome
Idiopathic hypertrophic neuropathy
CIDP ( Chronic Inflammatory Demylinating polyneuropathy )
14.

Joints :-
15.

Temperature :-
16.

Pulse :-
17.

Blood Pressure :-